They have been running for years in the United States and form part of the gastronomic scene of its big cities. And, for the last couple of years, they have started to gain strength in our country, but with a much more 'gourmet' concept, as we will see. We are talking about the Food Trucks, trucks selling food in the street.
If the idea that comes to mind when thinking about these American mobile food vans are hot dogs, hamburgers or tex-mex tacos, we must put this aside and open our mind in order to classify it as a new gastronomic concept that is becoming a trend in Spanish cities. And considering that our legislation, which is as usual one step behind, allows them to operate exclusively at fairs, specific events or in permanent places in various different localities, a part of the essence of the food truck itself is lost.
As we said, in Spain the trend is triumphing from a 'gourmet' viewpoint. The Food Trucks that we find at the events that are springing up across the country are based on high quality food, with careful presentation, healthy products, made with olive oil and perfectly presented, very far from the 1 dollar hotdogs that Americans buy whilst walking down the street. And this is noticeable in one detail: some of the greatest Spanish chefs have supported this concept, taking part in some of the events that have been emerging. Ricardo Sanz from Kabuli and Iván Muñoz from Chirón, both one Michelin starred restaurants, have taken part in MadrEat, a street food festival that takes place in Madrid on the third weekend of each month and that brings together over 40 culinary offerings in the form of Food Trucks. Or the chef Koldo Royo, with more than 20 years with a Michelin Star and who, in the same way as the main character in the film "Chef", swapped his restaurant for a hotdog stand, albeit of high quality. Or the chef José Andrés (who has cooked for Barack Obama himself), who launched his Pepe Food Truck in 2012 in the United States, with which he travelled the streets of the country offering his Spanish inspired Mediterranean sandwiches.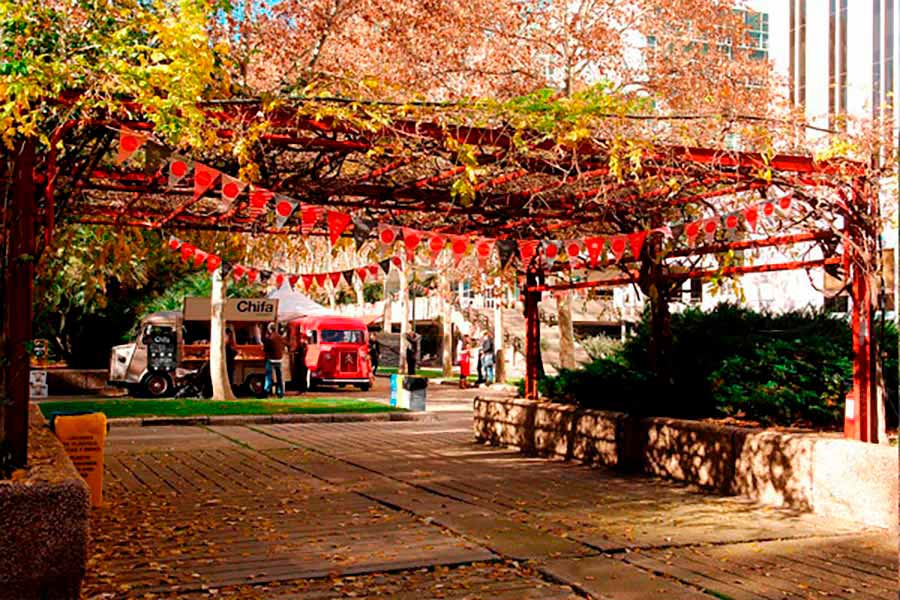 All of the above use olive oil in their culinary dishes, so that our "liquid gold" forms a fundamental part of this new trend. This was how Olive Oil Interprofessional saw it when, at the end of 2013, the "Tapas Truck" initiative was launched, which united two successful concepts: a restaurant on wheels and tapas made with olive oil. An educational function was added to this, since those who came to the trucks received information about olive oil and its use in cooking, and how it enriches and enhances the aromas and flavors of the dishes cooked with it. The initiative took place in various countries and it travelled the streets of Sydney, Melbourne, London, Nantes and Paris among other cities.
Now, we can enjoy Food Trucks with different culinary offerings in different places across Spain, such as Madrid with the aforementioned MadrEat, el Maresme (Cataluña), with the DreamMarket, or the Street Food Tour launched by the FoodTruck Club that will travel to cities such as Madrid, Jerez, Granada and Mallorca this year.
If you have the chance to attend one of these events at which they will be present, don't pass up the opportunity to experience this new gourmet culinary trend and enjoy the best Mediterranean dishes in the open air.